Museum Team
We asked our team to tell us about their favourite object from the museum collection, which is made up of almost 3000 artefacts relating to the life, work and legacy of Florence Nightingale. Read what they have to say below and once you have visited the museum, we would love to know what you enjoyed the most and whether you discovered a favourite object too.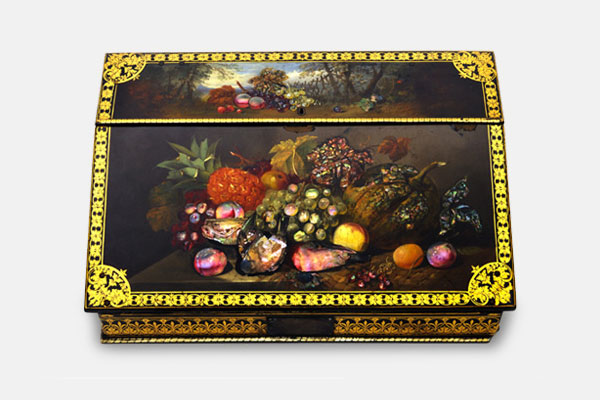 Kristin Buhnemann
ASSISTANT DIRECTOR: VISITOR EXPERIENCE & COMMERCIAL DEVELOPMENT
Chosen object: Writing case
I vividly remember this beautiful object from my first visit to Florence Nightingale Museum. I love the shimmering depictions of fruit; they remind me of a Dutch still life painting.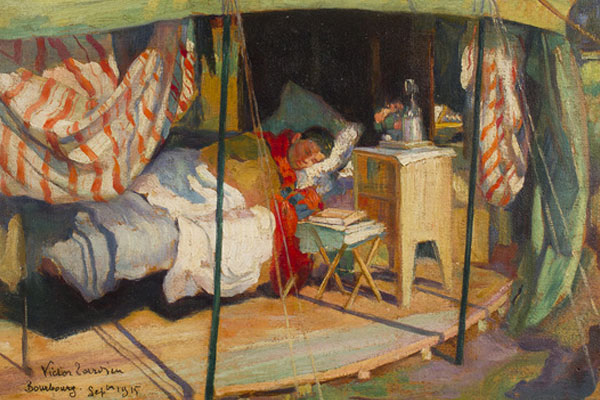 Chloe Wong
COLLECTIONS OFFICER
Chosen object: Oil painting by Victor Tardieu
I love this painting because not only is it very beautiful, it's also incredibly poignant, and really brings home how young the soldiers fighting and dying in the First World War were.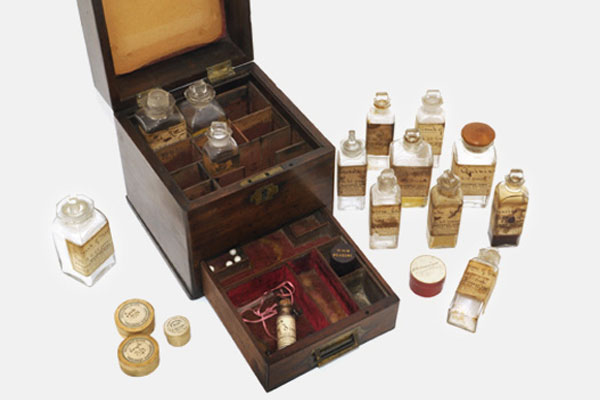 David Green
MUSEUM DIRECTOR
Chosen object: Medicine chest
The medicine chest is a beautifully designed object, with everything slotting neatly into place. As Florence's own possession, it also has a terrific historic resonance for me.
Helena Rutkowska
MUSEUM ASSISTANT
Chosen object: Graffitied pewter plate
I didn't spot this plate straight away, but once I discovered it, it made me smile as I imagined Florence Nightingale joining the soldiers for a momentary chat.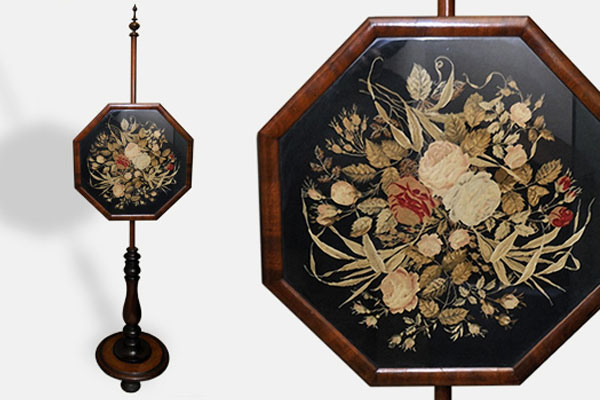 Rachel Kelly
MUSEUM ASSISTANT
Chosen object: Firescreen
This piece from the museum collection piqued my interest. For me, it evokes the dark woods and heavy textiles of a Victorian drawing room.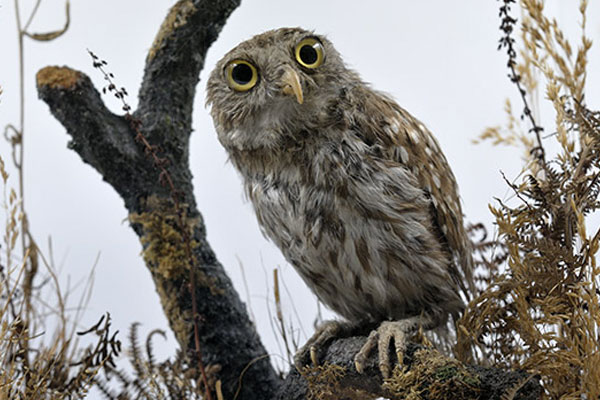 Vacant
ACCOUNTS CLERK
Chosen object: Athena the Owl
I chose Athena the Owl – she looks so striking, sitting on her branch with the dried grass around her. The exhibit epitomises Florence's caring attitude, as she rescued Athena and cared for her.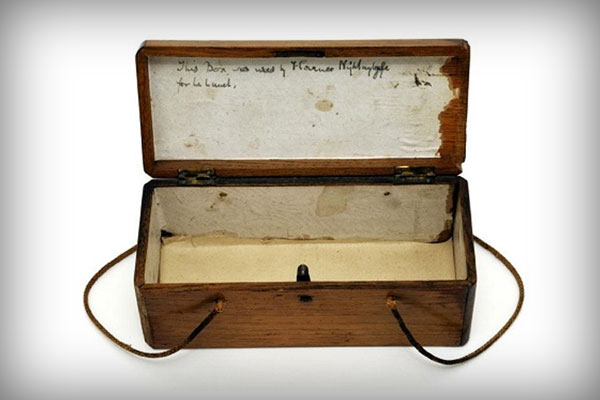 Amber Lickerish
FLORENCE NIGHTINGALE ACTOR EXPLAINER
Chosen object: Lunchbox
My favourite object from the museum collection is Florence's lunchbox. Every time I look at it I am struck by how small it is and I wonder what kind of food Florence might have put in there!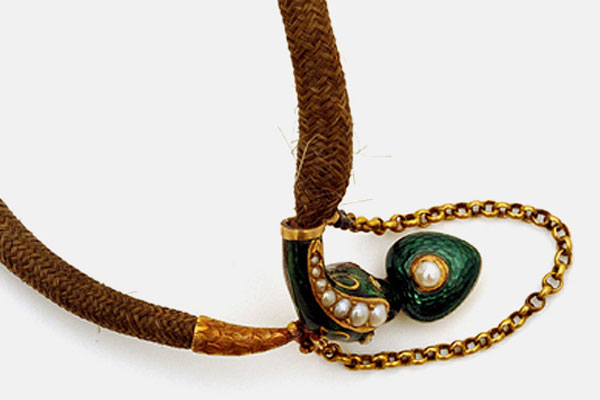 Lyida Grace-Mirando
MUSEUM ASSISTANT TEAM LEADER
Chosen object: Hair bracelet
I have always admired the Victorian sensibility, particularly the elaborate celebration of life, love and death. The physicality and intimacy of hair jewellery belies the primness commonly associated with Victorians.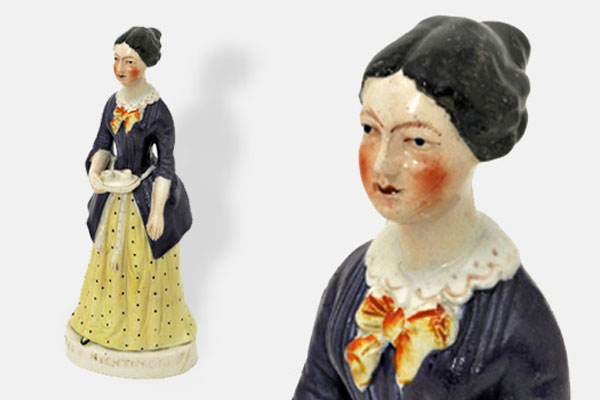 Hannah Smith
MUSEUM OPERATIONS CO-ORDINATOR
Chosen object: Staffordshire figurine
I chose the Staffordshire figurines to represent my experience in the heritage sector. I admire the progress of a mass-produced souvenir acquiring sufficient value to be celebrated – and they are lovely objects.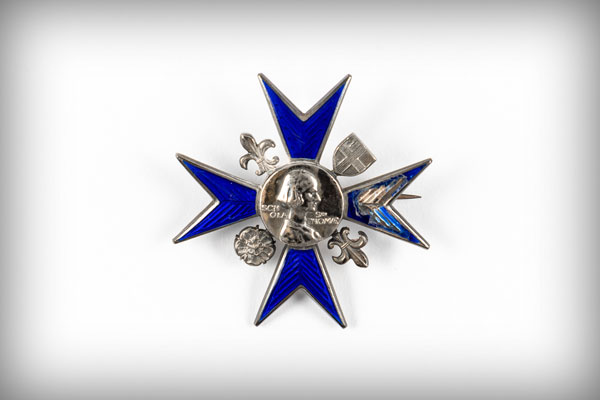 Catherine Starling
PROJECT 2020 OFFICER – MARKETING
Chosen object: Nightingale Badge
I vividly remember this beautiful object from my first visit to Florence Nightingale Museum. I love the depictions of Florence and its relation to St. Thomas' Hospital.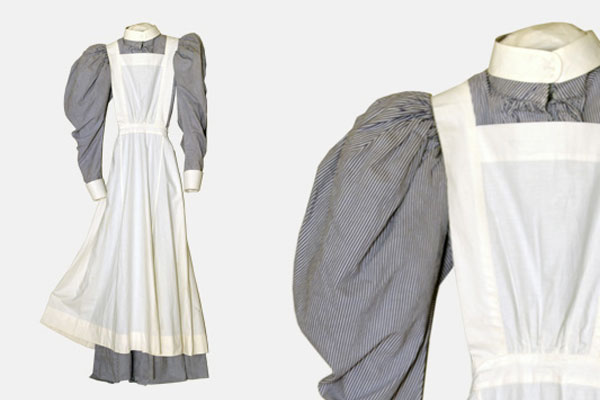 Melissa Chatton
ASSISTANT DIRECTOR: LEARNING 7 COMMUNITIES
Chosen object: Nurse's uniform
I chose the Edwardian nursing uniform because it symbolises my love of historical costumes and it also represents nursing history. I can't imagine having to keep the apron so pristinely white!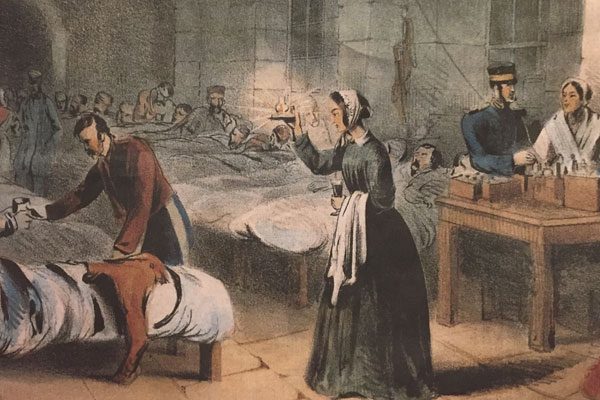 Holly Henry
VOLUNTEER COORDINATOR
Chosen object: Lithography of Florence Nightingale at Scutari Hospital
I chose the image of Florence because it shows her as the famous 'Lady with the Lamp', the name she is still known for world wide.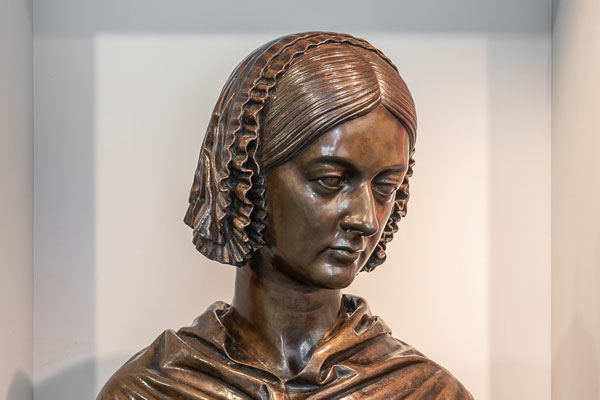 Emma Hixson
FLORENCE NIGHTINGALE ACTOR EXPLAINER
Chosen object: Florence Nightingale Bust
I chose the Florence Bust by John Steell because it was often said by her family to be the best likeliness of her.